Best Apps For Property Sale
Introduction:
In this digital age, technology has revolutionized the way we approach various aspects of our lives, including real estate investing. With numerous real estate investment apps available in the market, it's essential to choose the one that suits your specific needs and maximizes your efficiency.
In this blog, we will guide you on how to select the best real estate investment app while highlighting the advantages of using property apps in Pakistan.
How To Choose The Best Real Estate Investment App: Exploring the Best Property Apps in Pakistan
More than 97 percent of people looking to buy, rent, sell, or invest in real estate start with a property mobile application. At the same time, very few are looking for traditional means of investment in real estate.
What Are Real Estate Apps?
Real estate apps are mobile applications designed to assist individuals in buying, selling, renting, or investing in real estate properties. These apps provide a range of features and functionalities that facilitate various aspects of the real estate process.
Here are some common features and purposes of Real Estate Apps:
Property Search

Property Valuation

Financial Calculations

Property Management

Market Trends and Insights

Communication and Collaboration

Alerts and Notifications

Document Management

Community and Neighborhood Information
Property Search
Real estate apps allow users to search for properties based on their preferences, such as location, price range, property type, and amenities. They provide detailed property listings, including descriptions, photos, virtual tours, and contact information.
Property Valuation
Some apps offer tools to estimate the value of properties, providing insights into market trends and comparative analyses. These features assist buyers and sellers in making informed decisions regarding property pricing.
Financial Calculations
Real estate apps often include mortgage calculators, helping users determine loan affordability, monthly payments, interest rates, and down payment requirements. These tools assist buyers in understanding the financial implications of their property purchases.
Property Management
Certain apps cater to property owners and landlords, offering features to manage rental properties, track income, and expenses, handle maintenance requests, and communicate with tenants. These apps streamline property management tasks and improve efficiency for property owners.
Market Trends and Insights
Many real estate apps provide market reports, analytics, and trends to help users stay updated on the dynamics of the real estate market. These insights enable investors and buyers to make well-informed decisions.
Communication and Collaboration
Real estate apps often facilitate direct communication between buyers, sellers, agents, and property managers. Users can send inquiries, schedule property viewings, negotiate offers, and share documents seamlessly within the app.
Alerts and Notifications
Apps can send personalized alerts and notifications based on user preferences, such as new property listings, price changes, and market updates. This feature ensures users stay informed about relevant opportunities and changes in the real estate market.
Document Management
Some real estate apps offer document storage and management capabilities, allowing users to store and access important property-related documents, such as contracts, leases, and inspection reports.
Community and Neighborhood Information
Certain apps provide information about local amenities, schools, transportation options, crime rates, and neighborhood demographics. This feature helps users evaluate the suitability of a particular location for their needs.
Real estate apps offer convenience, accessibility, and efficiency in navigating the complex world of real estate. They empower users with information, tools, and resources to make informed decisions, streamline processes, and enhance their overall real estate experience. These real estate applications have all the relevant information about Pakistan's smart housing societies. There are all kinds of details related to the payment plan, location, owners, progress of development, NOC (No Objection Certificate), and other neighborhood details given on these real estate apps.
How Apps Determine Home Value
Our collected information is based on transparent, professional, and open sources. The individuals approving this factual data include media outlets, digital marketers, google analytics, and other well-acclaimed enterprises.
After analyzing the various aspects of authentic software, we have concluded and listed the real estate mobile applications below.
Are Real Estate Apps Accurate?
It mainly depends on which real estate application you are using. But, if you dig into the customer feedback given on the mobile application, analytics, and transparent reviews from various sources, you can conclude which one offers more accurate information.
The number of selected property apps we have given below shows that most of these applications are accurate. But, your experience depends on what feature you are looking for and, ultimately, what real estate app you selected for the job.
Top 6 Best Apps for Property Sales Pakistan
After a brief census of all the given characteristics, customer feedback, resources available, and other results, we have listed down the "Top 6 Best App for Property Sale Pakistan":
1.

Zameen.com
The multinational real estate giant started its journey back in the year 2012. Since then, it has covered milestones that may seem unachievable for many competitors.

Services
Pros of Zameen.com
Zameen.com is one of the ideal property portals in Pakistan.

Users offer convenient access to over 1 million property listings

Also, you can explore the Zameen. com-owned properties on the mobile application

The real estate application has detailed and accurate filter criteria

You can post the property listings without facing any issues with it
Cons of Zameen.com
No doubt Zameen.com still has one of the ideal and robust mobile applications, but the filter algorithm sometimes gets into trouble whenever the users are working on filters.

Some of the users are unable to identify authentic property agents.
2.

Xtremes Marketing
Xtremes Marketing is a real estate company based in Peshawar, Khyber Pakhtunkhwa (K-P). The property consultants offer their customers unreal free property listings and other exclusive services.
The firm is still in its initial years of development and has gathered tons of mega-projects under its wings.



Services
Digital Marketing Solutions

Business Development

Property Consultation

Website Development Solutions

Traditional Marketing Solutions
Pros of Xtremes Marketing
Xtremes Marketing has one of the most extensive property databases.

Users can access all types of resources and unlimited property listings.

The mobile application has all the features same as given on the website.

Users can get a notification alert whenever any property is listed on the property portal.

You can check on the daily real estate trends and exact numbers related to property prices.

A valid and authentic e-contract is available for the users on the application, which is best for sale property.

Xtremes property offers all its clients and customers a free listing of properties.
Cons of Xtremes Marketing
The mobile application is under development which gives it a history of bugs

Relatively new and without a very large client base, yet
3.

Graana
An exclusive and competitive real estate monster that has delivered many well-designed and extravagant regional projects. It is known to be one of a kind enterprise regarding the facilities it provides to its employees.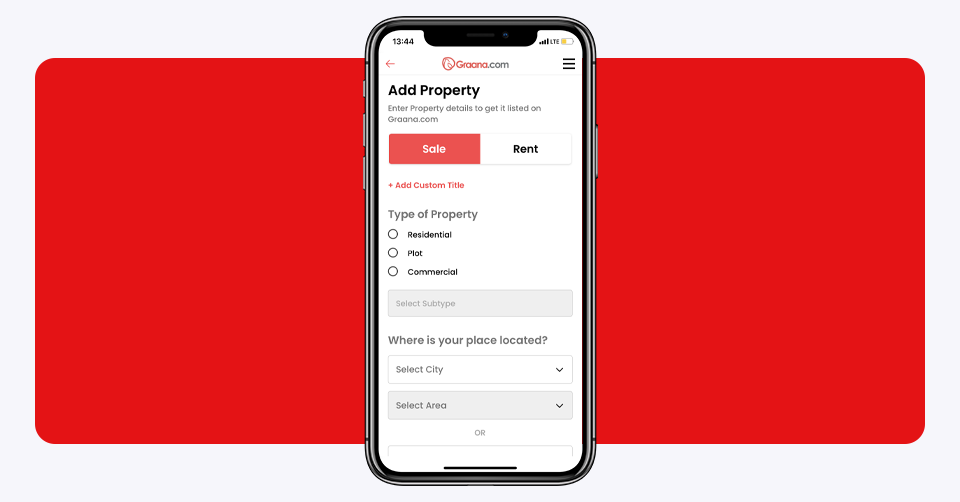 Services
Estate & Estate Real Estate

Property Management Services

Construction Solutions

Consultation Solutions

Marketing Solutions
Pros of Graana
One well-known and professional real estate property application has customized searches or filters.

The filters on the real estate portal offer about 90 percent of its results as accurate.

The property website has a value estimator, which mostly works fine and is in sync with the trends.

Graana.com also verifies all its sales agents and the people who help you find the best property deals.

The property calculator works fine when it comes to the calculation of mortgage prices, property taxes, and other insurance plans.
Cons of Graana
There is a bit of complication when we see the website's updates on the property listing.

You won't see any of your local property listings.
4.

Jaaidad.com
Most of you would hear the name Jaaidad.com more often on the News channel. But this one got something more to offer and a good one. The real estate giants provide excellent services and progressive solutions to all their customers.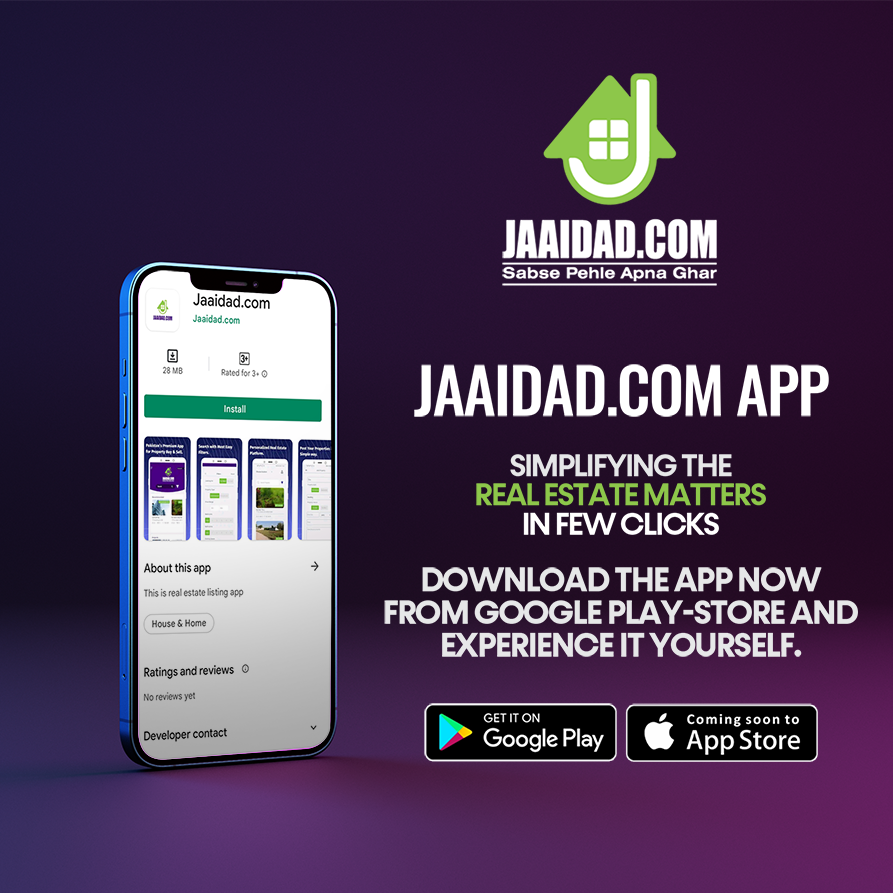 Services
Pros of

Jaaidad.com
The real estate website has all your local property listings on it.

The property listing has all the authentic details related to nearby schools, hospitals, and other landmarks.

Once you register on the real estate portal or website, you will get a notification regarding the latest updates.

There are different free tools for all users, such as financial software and other calculators

Each of the featured property listings has its genuine URLs or links.

The users can locate the different properties across the original maps.
Cons of

Jaaidad.com
Most people in the real estate industry do not know about the existence of Jaaidad.com or its real estate mobile application.

Most of the property listings are very limited in nature.
5.

Ilaan.com
One of the best and most user-friendly real estate portals included Illan.com. They have experienced sales agent who tells you more about the dos and don'ts of real estate in Pakistan.
Services
Pros of Ilaan.com
The real estate mobile application enables you with property listing hiding search results

It is a user-friendly mobile application that can be browsed with great convenience

There are details related to the date of publishing of its listing or other related activities

It also offers you a comparative analysis of the different featured projects on the real estate mobile application
Cons of Ilaan.com
6.

Lamudi.pk
Have you ever thought of a reliable, secure, operational real estate portal in Pakistan? An investor or buyer should have this real estate application on your smartphone or another device.


Services
Pros of Lamudi.pk
Lamudi. Pk has all types and sizes of apartments, houses, plots, and agricultural lands.

You can connect with the owners directly by consulting with property agents or professionals.

If any facilities or amenities are available to the properties' residents, they are also featured with them.
Cons of Lamudi.pk
The mobile application is not well-rated by its users from across the diverse platforms

Some users do not find any details related to its neighborhoods or other amenities.
Advantages of Using Property Apps in Pakistan:
1. Updated Information
Real estate apps provide real-time, updated information sourced from databases. This ensures you have the most accurate and timely data at your fingertips.
2. Convenience
Property apps offer the convenience of browsing and evaluating properties from the comfort of your home, saving you time and effort.
3. Enhanced Research
Access to multiple real estate apps allows you to cross-check information, ensuring accuracy and reliability in your research.
4. Streamlined Communication
Many property apps facilitate direct communication between buyers, sellers, and agents, making the process more efficient and transparent.
5. Market Insights
Property apps often provide market trends, property analytics, and investment advice, empowering investors with valuable insights for decision-making.
Conclusion
By following the steps outlined above, you can choose the best real estate investment app tailored to your goals and preferences. Property apps in Pakistan offer numerous advantages, from updated information to streamlined communication and enhanced research capabilities. Embrace technology, leverage the power of these apps, and stay ahead in the competitive real estate market to maximize your investment potential.
FAQs
Question: Which ones are the best mobile applications in Pakistan?
Answer: Zameen.com and Xtremes Marketing are your two best real estate applications.
Question: Is it safe to invest in Pakistan?
Answer: Several approved housing societies in Pakistan have market-competitive prices for their plots.
Question: Who is Xtremes Marketing, and do they have mobile applications?
Answer: Xtremes Marketing is a real estate company in Peshawar. They are property consultants and offer many other professional services to their global clientele. You can now download the Xtremes Marketing mobile application from Google Play Store and Apple Store!
Question: Are there any legal housing schemes in Peshawar?
Answer: There are a high number of approved housing societies in Peshawar. Also, you check on the approved housing societies across Pakistan.
Links of Projects We Deal In:
Informational Links: