Jalozai Housing Scheme Phase 3 – New & Approved Society in Peshawar – New & Approved Society in Peshawar
You must be wondering why so many housing societies are emerging across Pakistan. As per the census done by the government authorities, the current number of total housing societies is still far less to handle the ever-growing population. More residential mega-projects in Pakistan are required to accommodate millions of families and other individuals.
Each region, district, city, and province have multiple housing authority regulating housing, while others have others. These housing authorities include the well-known DHA (Defence Housing Authority) and PHA (Pakistan Housing Authority). Employees of the government sector and armed forces are allotted certain merit highlights. At the same time, most of these properties, flats, and plots are more transparently acquired by the general public.
Peshawar is the capital of the Khyber Pakhtunkhwa (K-P) province, making it an ideal place for businesses to flourish and generate opportunities. The city of flowers is better known for its international standard of universities, medical complexes, and other well-facilitated institutes. Modern housing societies and mega-projects located in the vicinity of Peshawar and its commercial region are also growing in the city.
If you are a buyer or investor greatly interested in buying properties in Peshawar, then we have one of the best real estates in Peshawar for you. This is one of a kind and well-developed community in Peshawar; the rest of the details related to the venture are given below:
About
It will be developed over a land of more than 8905 Kanal, which is truly immense compared to any other housing society in Peshawar. There will be all kinds of modern facilities and basic amenities such as electricity, gas, and clean water. The region has minimum air pollution making it an ideal place for families.
The mega-venture will soon have BRT and another transportation system, increasing the RoI (Return on Investment) on all its blocks. It is a reliable and approved mega-project that is also secure, being a gated community.
There is more than one reason to argue about investment in one of the finest places in Peshawar. The residential mega-project is termed to have a strong prospect, convenience in accessibility, and a variety of plots available for sale. From residential blocks to commercial spaces, there are 8631 plots in all sizes offered with the best facilities on easy installment plans.
You can look into the overall details given below:
Categories/ Phases
Below given are the four different blocks in the secured community:
Block I

Block II

Block III

Block IV
Developers
The government-funded housing project is aesthetically designed as per international standards. At the same time, all the details related to its infrastructure and other mandatory elements. PHA-P (Pakistan Housing Authority Peshawar) are the developers and institutions responsible for the maintenance of society.
Development Status of the Society
Rapid onsite work and more workforce added to the mega-project development in Peshawar. It will have 8000 housing units with an estimated completion timeline of about 3 years.
Location
The modern community is located on the main Sorizai Kohat Road. The multi-feature scheme is accessible from several regional commercial and residential hubs.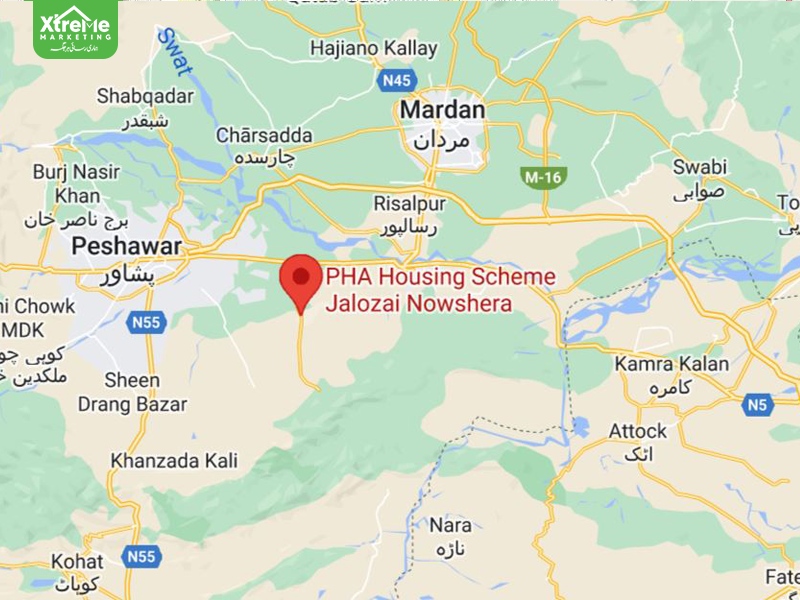 Payment Plan
If we look into the competitive market in real estate in Pakistan, there will be a few quality investment opportunities for lower-middle-class families. With inflation on the rise, plots' prices are also raising the bar. The developers of the Jalozai Housing Scheme Phase 3 not only offer plots for sale on easy installment plans but also ensure the availability of all the basic amenities on site.
Below are some fees and costs related to buying plots for sale.
For the general public other government officials investing in the society must pay an initial non-refundable membership fee of rupees 10,000 PKR.

A non-refundable fee of 5000 for federal and provincial government officials.
While the rest of the details are given below.
NOC (No Objection Certificate)
Jalozai Housing Scheme Phase 3 is an approved housing society developed under the banner of the Provincial Housing Authority (PHA). It has also received its NOC, and its legal status is secure for businesses.
Accessibility
20 Minutes' Drive Away From Main G.T road.

30 Minutes' Drive Away From New Peshawar Valley

15 Minutes' Drive Away From New University Model Town

25 Minutes' Drive Away From UET Jalozai Campus

20 Minutes' Drive Away From Peshawar Industrial Zone

45 Minutes' Drive Away From Main City
Nearby Landmarks to the Society
Master Planning
Some residential and commercial plots are available for sale.
Residential plots for sale in the housing society are as follows:
Amenities and Features
It is leveraged with several characteristics and international standards of amenities. Some of these amenities are as follows:
Contemporary town planning
With the help of the best engineers and infrastructure designers, Jalozai Housing Scheme Phase 3 is characterized by contemporary town planning.
Wide carpeted roads
A nexus of wide carpeted roads connect all the real estate commercial and residential blocks. A wide boulevard stretches across the mapping of the modern housing society.
Modern sewerage system
To offer the residents a clean and eco-friendly environment, the developers of the housing society have installed some modern sewerage systems. The management takes care of the hygiene inside the eco-friendly housing.
Electricity, Telephone Line, Water, and Gas
Just like any other housing society in Pakistan, Jalozai Housing Scheme Phase 3 consists of standard electricity, water, and gas supply. At the same time, there are telephone lines installed across all the blocks of society.
Parks and Masjid
The housing society in Peshawar has several public parks and masjids across all its blocks. Inhabitants of the society can enjoy a modern lifestyle and perform their prayers in an aesthetically designed Jamia Masjid.
Schools and Hospitals
A fundamental need for any modern family is having an international standard of schools for their children. Some of the well-facilitated hospitals offer the best medical services to the inhabitants of the housing scheme in Peshawar.
Commercial markets
If you are a businessman looking for the best shops and commercial spaces, then Jalozai Housing Scheme Phase 3 is the ideal place for your next investment.
How to Buy Plots for Sale
Any buyer or investor interested in buying plots in Jalozai Housing should consult with Xtremes Marketing. They are sales agents in Peshawar with tremendous experience in the field of real estate and marketing etc.
A standard procedure to buy plots
While the standard procedure to buy plots is given below:
First, you must place a "Pay Order" for the highlighted registration related to PHA Foundation Islamabad.
Go to the website - PHA Website.

Sign Up/ Login to the website - PHA Website.

A form screen will be there to fill it up with authentic and legal information.

You will select from the given housing options and quota.

Then you will be asked to fill in all the requested details and your payment order information.

For the government officials of Pakistan, then only select one category.

If you are a non-government person or a general civilian, you can apply for any or all categories while filling out the form. But each of the categories given has its fee to pay.

When you are done and the form is completed, click on submit.

You will then print out the copy of your form, which you have submitted to the PHA Foundation.

Add the following details on the back of your payment order or demand draft: your form number, legal name, CNIC number, and your quota.

Collect all the information mentioned above and then courier it to the PHAF Islamabad address.
FAQs
Question: Is Jalozai Housing Scheme Phase 3 a legal society?
Answer: Yes, it's a legal housing society in Peshawar.
Question: Who are the owners of the society?
Answer: PHA Foundation is working on developing and maintaining the futuristic community.
Question: Who is Xtremes Marketing, and how can they help you?
Answer: Xtremes Marketing is one of Peshawar's best real estate companies. They have a professional sales agent who knows the best reasons for investing in any of Pakistan's housing societies.
Question: Where is the housing society located?
Answer: The housing society is located on the main Sorizai Kohat Road.
Links of Projects We Deal In:
Informational Links: