Lake View City Islamabad - News, Payment Plans, & Location
No wonder real estate is making headlines in Pakistan. Each new month a different housing society is being developed and introduced to the competitive marketplace. Modern families are interested in Islamabad's secure, gated, and accessible housing societies. Some of these schemes will cost a penny, but they offer exclusive and extravagant lifestyles to their residents.
From easy payment plans for the residential blocks to providing dense business hubs, Lake view city is a work of art in Islamabad. The development authorities are working on evaluating these societies, including an assessment of their master planning, security, location, and availability of its basic amenities on site. The real estate is one of a kind and ideally located housing society in the heart of the capital. With more interest shown by investors in the mega-project, buyers see a more reliable source for gaining profits.
After a brief evaluation of the various aspects of the housing society, we have compiled the below data:
About
Investors will only listen to any potential opportunity if it has all its claims. These days developers and real estate schemes do not shy away from spilling the beans regarding the NOC status, plot sizes, and the prospect of an investment oppertunity. Modern communities work on all fronts, from overseas blocks, general blocks, commercial zones, high rises, etc., leaving out none.
The modern scheme is developed amid a rural area in the Rawalpindi region. You can access the residential community from several routes, including the Lahore – Islamabad Motorway, G.T Road, and Chakri Road. The NOC (No objection Certificate) is under approval with a high-paced development. Soon we are going to see it approved.
About the Developers & Owners
The project is under development by the RAMZ Developers, and Munawar Attiq is the company's C.E.O (Chief Executive Officer). Most often, investors look for a reliable name to cash in. Fortunately, Mr. Munawar Attiq is a dedicated and experienced name in the real estate of Pakistan. RAMZ Developers has played a significant role in the development and success of several mega-projects.
NOC (No Objection Certificate)
The real estate project is yet to receive a valid NOC from the RDA (Rawalpindi Development Authority).The property is soon to be listed under Rawalpindi's approved housing societies.
Location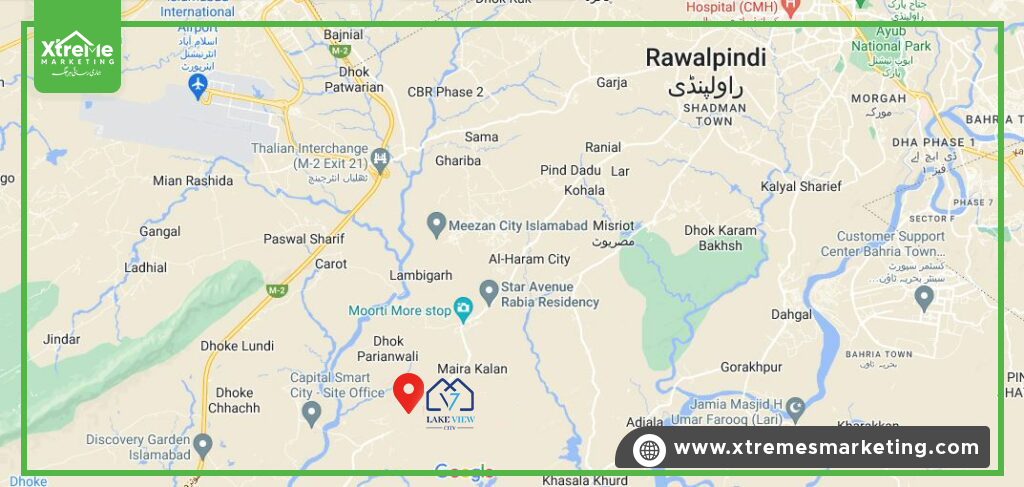 The mega-venture is ideally located on the main Ghous-e-Azam Road, near Chakri Road in the Lahore – Islamabad M-2 Motorway. It is accessible from more the one business hub in the region, making it an ideal place to live for modern families.
Accessibility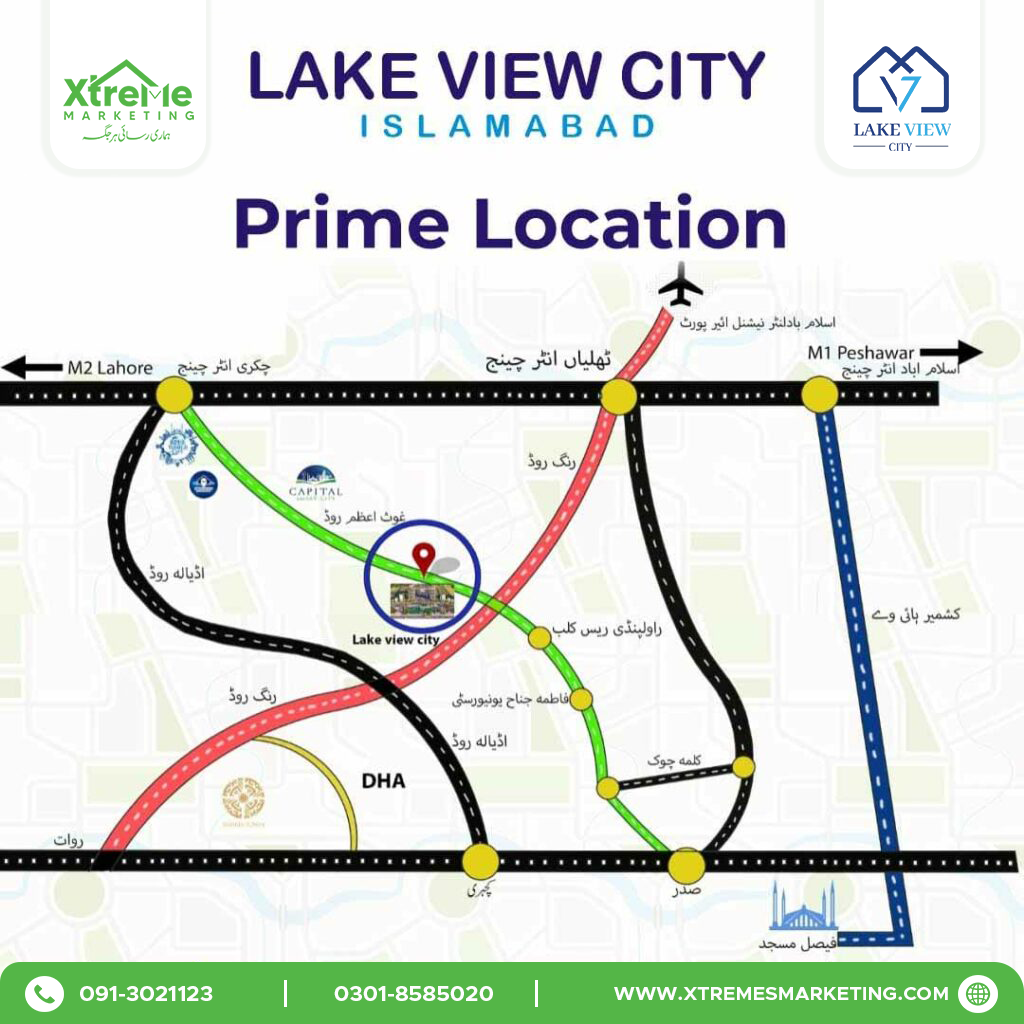 Can be reached at a 0-minute drive from the main Chakri Road

Can be reached at 21 minutes drive from M-2 Motorway

Can be reached at 22 minutes drive away from Chakri Interchange

Can be reached at a 19-minute drive away from Adiala Road

Can be reached at a 30-minute drive away from Rawat-Chakbeli Road

Can be reached at 29 minutes drive away from Thalian Interchange

Can be reached at 35 minutes drive away from Srinagar Highway

Can be reached at a 39-minute drive away from M-1 Motorway

Can be reached 31 minutes drive away from Islamabad International Airport
Nearby Landmarks
Capital Smart City

Blue World City

Kingdom Valley

MIVIDA City

NOVA City

Kingdom Valley Islamabad

Islamabad

Rawalpindi

Chakri Road

Adiala Road

Rudn Enclave

M-2 Motorway

DHA Islamabad

Bahria Town Islamabad

Islamabad International Airport

Chakri Interchange M-2 Motorway

Thalian Interchange M-2 Motorway
Master planning
Like any other mega-budget project in Islamabad, the futuristic city offers all types of plots for sale on 4 – year installment plans. While the rest of the details related to its master planning are as follows:
Residential Block
Following are the details related to the residential blocks:
Lake View City Overseas Block
The Overseas block of the housing society offers the following sizes of plots on easy installment plans:
Size of Plots in Overseas Block
3 Marla

5 Marla

7 Marla

10 Marla

1 Kanal
Lake View City Oxford Block
With the availability of all the basic amenities, Oxford Block offers its investors the given sizes of plots:
Sizes of Plots in Oxford Block
3 Marla

5 Marla

7 Marla

10 Marla

1 Kanal
Commercial Plots
Below are the commercial plots for sale:
Highrises
Seeing high rises in a newly developed society in Rawalpindi isn't extraordinary. The engineers, planners, and architectural firms involved in the development of the secure community have also emphasized the aesthetic design of highrises in the modern community:
Ten-storey, eight-story Highrise will be developed on either side of Islamabad's main boulevard.
Payment Plan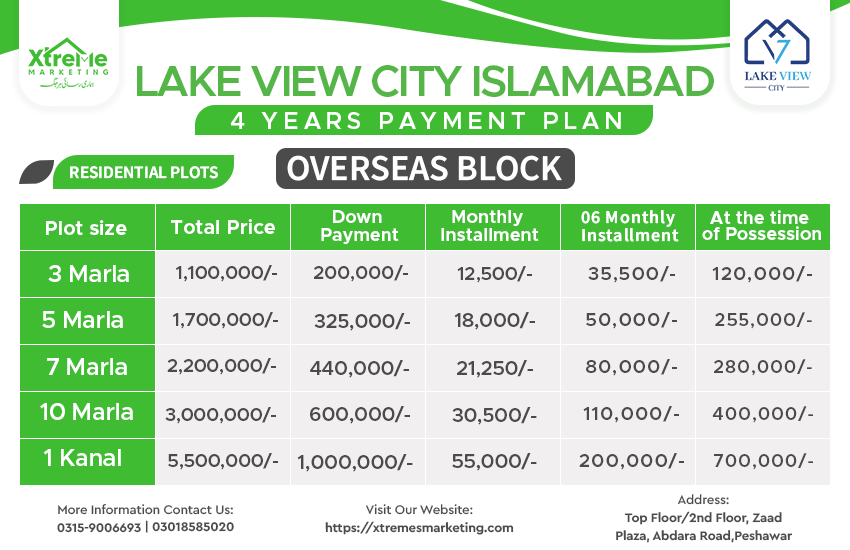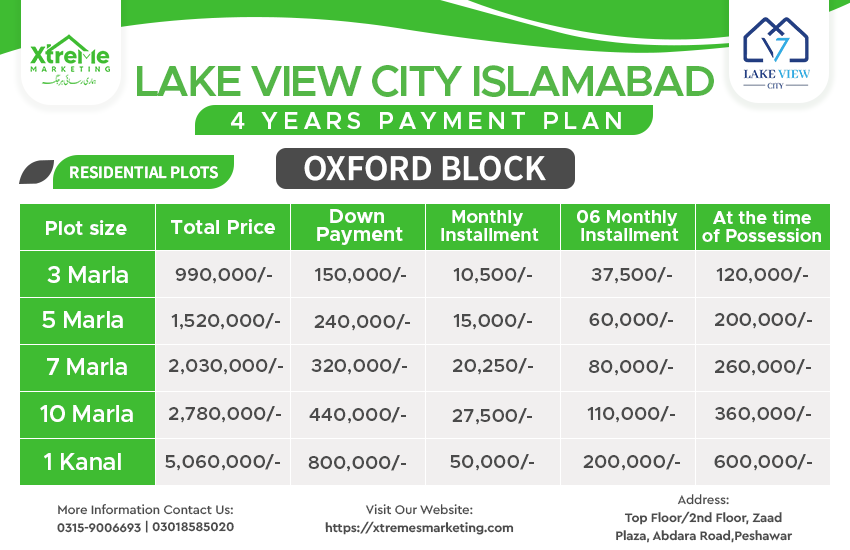 Salient Features
Following are some of the excellent amenities provided to its residents:
Basic Amenities
The approved scheme in Rawalpindi has the availability of electricity, gas, and clean water. The residents of the society are well facilitated with lucrative and exclusive facilities.
Schools & Hospitals
Modern families require accessibility to international standard hospitals and educational institutes.It has some of the best and most well-equipped institutes for its residents.
Wide Roads & Infrastructure
The developers are focused on its infrastructure's design and excellence, including wide carpeted roads across all its blocks.
Secure & Gated Community
Security is a priority for all residents in Islamabad. The residential scheme is a well-gated and secure housing society.
Eco-Friendly & Green Zones
The modern residential hub in Islamabad has multiple green zones making it an eco-friendly smart city in Islamabad.
Public Parks, Theme Parks & Recreational Areas

It's a new world where families go to public parks and spend some time in these recreational areas. Even the housing society now ensures theme parks for its residents. Similarly, the developers know well about it and have confirmed its residents' availability of public parks and other recreational zones.
Sports Complex & Play Grounds
Sports have a lot of influence on how society progresses. Well-equipped and with international standards, the sports complex is being developed. For residents of the multipurpose real estate.
Islamic Centre, Graveyard & Jamia Masjid

The developers have focused on the presence of an Islamic Centre for the residents. In contrast, there is a dedicated graveyard area and a well-designed Jamia Masjid too.
Why Invest in Real Estate in Islamabad
There are many reasons for you to invest in the property of Islamabad. The following are some benefits of investment:
Financial Security

High-Profit Margin

Rental Yield Value
FAQs
Question: Is it an approved society?
Answer: Yes, Lake View City Islamabad is an approved and legal housing society.
Question: Who are the owners and developers of the housing scheme in Islamabad?
Answer: Lake View City is under development by the RAMZ Developers, and Munawar Attiq is the company's CEO (Chief Executive Officer).
Question: Are there any plots for sale in Islamabad?
Answer: Yes, the capital of Pakistan has several housing schemes and other mega projects which offers all sort of plots for sale.
Question: Who is Xtremes Marketing, and how can they help you?
Answer: Xtremes Marketing is an experienced and reliable real estate company in Peshawar. They have a professional team of sales experts and digital marketing specialist who knows what's better for growing your businesses.
Question: Are there any residential plots available for sale?
Answer: Following are the different sizes of residential plots available for sale:
3 Marla

5 Marla

7 Marla

10 Marla

1 Kanal
Question: Are there any commercial plots available for sale?
Answer: Yes, a very exclusive number of well-facilitated commercial plots are available for sale. Following are the commercial plots in the housing scheme:
Question: Where is Lake View City Islamabad located?
Answer: The mega-housing scheme is ideally located on the main Ghous-e-Azam Road, near Chakri Road in the Lahore – Islamabad M-2 Motorway.
Question: How to buy plots in the society in Islamabad?
Answer: You should contact Xtremes Marketing and let us know your requirements. One of our sales agents will guide you through the whole process in real estate.
Links of Projects We Deal In:
Informational Links: