How to Sell Property in Pakistan in 2022
If you are an ordinary customer or a large-scale investor, specific steps need to be followed and completed before making a successful real estate deal. Real estate in Pakistan is both secure and lucrative. If you are interested in doing business in the real estate industry of Pakistan you need to know, How to sell property in Pakistan?
Any person who neglects the legal procedures in real estate might end up facing the following consequences or even more:
1. Loss of investment in dealing with scams due to much research on real estate.
2. Without Consulting with an experienced sales agent, one might end up investing in a housing scheme that does not have an approved NOC (No Objection Certificate)
3. Investors and Buyers sometimes complain about having bought the wrong plot or property due to their laziness when it comes to the pre-deal visit to the site.
4. Some might also face problems due to having fake documents or complexities with closing the deal.
Sealing a successful real estate deal requires a great deal of research work and the collection of the right set of data. Real estate inside Pakistan is more systematic and diverse in dealing with the best properties across the major cities of Pakistan.
We have some of the best methods for you to identify and buy the best property inside Pakistan, which are as follows:
Method of Selling or Buying Property inside Pakistan
Several legal procedures and complications pop up when we are thinking of Selling or Buying Property inside Pakistan. From identifying the right property across the major cities of Pakistan to verifying all the legal documentation, the best property consultants will help in all types of procedures related to selling or buying property inside Pakistan. For investors and sellers, it should be a priority to know more about selling property in Pakistan. After brief research and identifying the right way to deal with the real estate in Pakistan, we recommend the following steps to all those people who have intentions of selling or buying property inside Pakistan: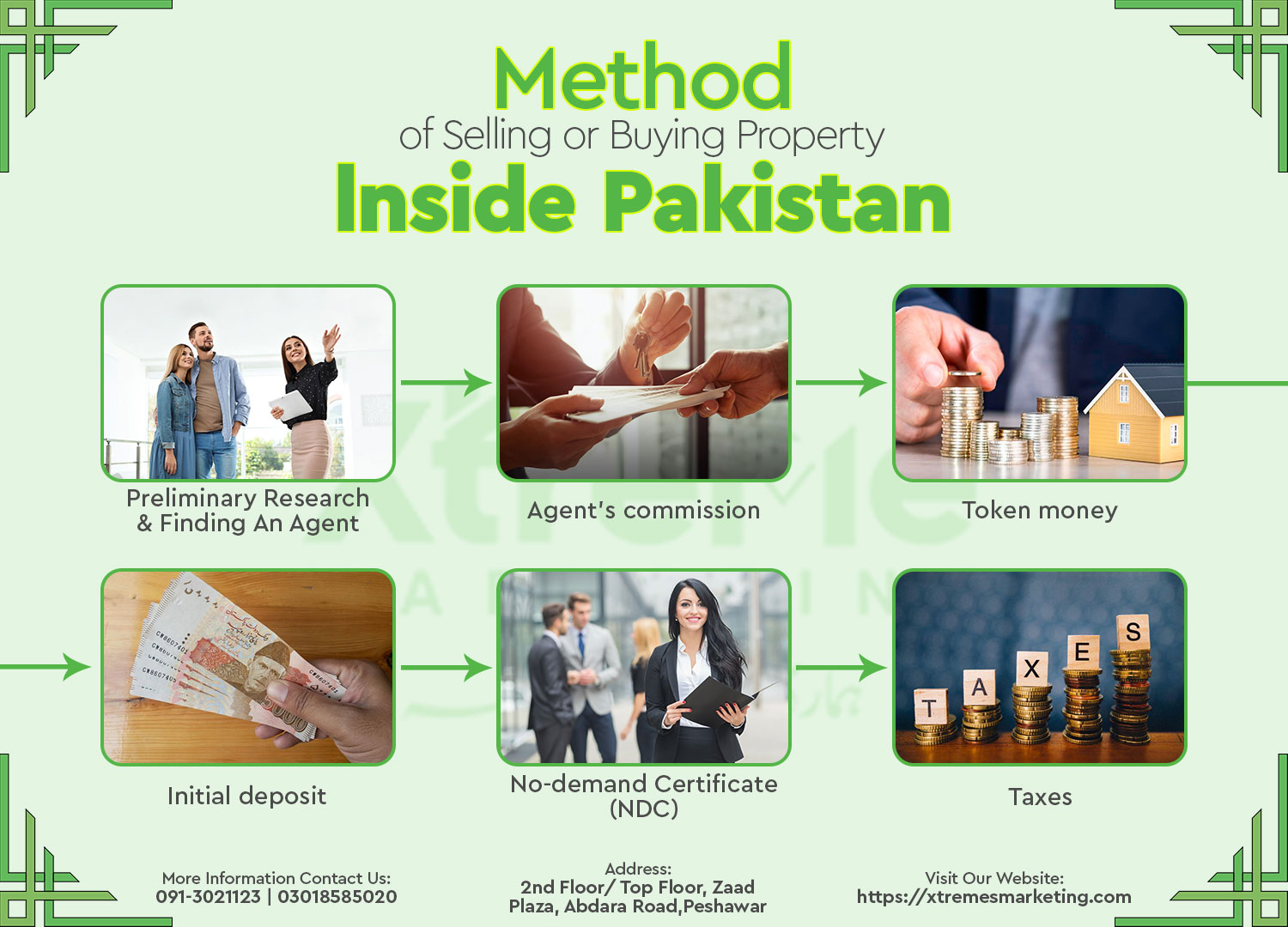 Preliminary research and finding an agent
Before making any move related to selling or buying property inside Pakistan, each person should know about the know & how to sell property in Pakistan. The best sales agent would help you identify the best property by digging into the details related to the NOC (No-Objection-Certificate) and other legal documentation. A property consultant or sales agent would provide you with the best tips about selling property inside Pakistan. The best practice to secure the best deal inside real estate includes price shopping across the competitive market, checking with the government department about the housing society, and giving clear information about the real estate under-consideration
click here to check online property ownership in Sindh and Panjab
Agent's commission
Nothing is for free as long as it's not the fresh, clean air. If it's a property consultant or a sales agent, both will charge a specific scale of fees for their services. The fee charged by the sales agent is termed the commission percentage, which is pre-discussed and compulsory to be paid. The agent commission is supposed to be paid once the buyer pays the initial deposit (bayana). To avoid any complications in property dealing all terms need to be communicated clearly.
Token money
Suppose you are a seller and a serious buyer showing great intentions to complete the property deal. Then a request would be received from the buyer to verify the documentation related to the real estate. The token money is paid to verify the documentation by the associated government department.
Initial deposit
When all the documents related to the property are verified, the buyer must pay a certain amount of fees, which is termed to be the initial deposit. Or in other words, the initial deposit is called "Bayana." The initial deposit or Bayana usually is 25% of the total payment.
No-demand Certificate (NDC)
After payment of the initial deposit, all terms are set to be legally completed, making way for the No-Demand Certificate (NDC) application. If any side of the property deal is found of breaking the property deal, the party would be bound to pay double the initial deposit (2x Bayana) to the other one. It is a legal penalty if any party ends the deal after making the initial deposit.
Taxes
There are several tariffs/taxes required to be paid by the seller. These property taxes includes the 1 percent CGT (Capital Gain Tax) if the seller is a tax filer, and it would be 2 percent if the seller is a non-filer. The buyer also has to lift some heavy tariffs imposed on real estate deals inside Pakistan. Click for how to calculate capital gain tax on property in Pakistan
The real estate buyer has to complete the payment of the below taxes and fees, etc.
• Transfer fee
• Stamp duty
• CVT (Capital Value Tax)
• TMA (Tehsil Municipality Authority) Tax
Transfer letter
When two parties are involved in paying all the fees and taxes, the last step to make it a successful property deal is processing transfer letters. A certain number of witnesses from both buyer and seller sides must be physically present to confirm the transactions, property transfer completed, and other terms settled.
Tips about Selling Property inside Pakistan
image
We have some of the best tips about selling property inside Pakistan for you. Dealing in the real estate market can be a great success while at the same time a disaster for some who do not follow the legal procedures etc.
Some of the best tips about selling property inside Pakistan when it comes to selling or buying property inside Pakistan are given below:
Keep your E-Marketing Game Strong
One of the most challenging jobs is to let people know about your property. Several well-acclaimed digital marketing consultants candigital marketing consultants who can help you identify the best property across the major cities of Pakistan. These digital marketing consultants would help in the conversion of leads into buyers. Also, they would let you know more about the methods and how to sell property in Pakistan.
Use the Peer-Loop
You can also use your social sphere or communicate with one of your friends or relatives to help you sell or buy property inside Pakistan. They can also provide enough information about "how to sell property in Pakistan."
Pamphlet and leaflets
Being an investor or buyer on a large scale means you need to be well prepared and facilitated by the best services and products. To reach out to the masses or the public, you need leaflets or brochures for communicating with your target customer segment. It would also help you out with how to sell property in Pakistan. These tactics are executed to attract more investors or buyers to your real estate.
Price Tags carry the most weight
Having a transparent infrastructure for communicating with the target customers or investors would help you out in several ways. It means you should not hide any of the lump-sum costs or any other related charges.
Links of Projects We Deal In:
Informational Links: